Nubyen Muse Skin Beautifying Renewal Light Emitting Diode Device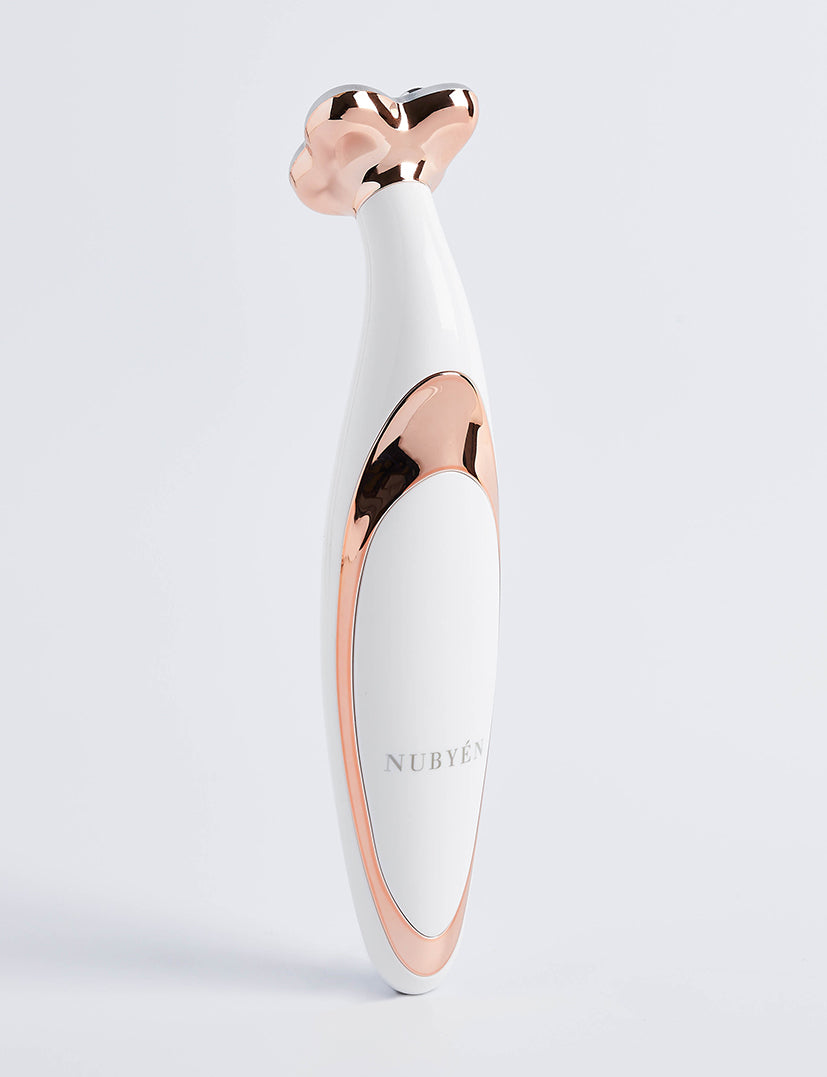 Supercharge your skincare routine.
Give your skin an elevated boost at home with Nubyen's LED at home facial treatment.
Improve the appearance of your skin by diminishing fine lines & wrinkles. An innovative, easy to use compact device. 
Ideal for everyday use to renew tired skin in need of rejuvenation & reduce the signs of ageing with targeted results.
Harnessing the power of LED light therapy & nano micro- current technology (a mini surgical face-lift)a medical grade treatment from your own home.
Simply adjust the intensity & choose from multiple functions to precisely target areas prone to ageing to re-contour & lift. 
Sculpt using the bevelled head on areas such as cheek bones, the jawline, forehead and along the distribution of lymph nodes to facilitate lymphatic drainage & facial slimming. 
Massage 
LED Light therapy:
Powered by LED ( Light Emitting Diode) technology, each light performs a targeted treatment.
LED Light therapy stimulates the natural production of healthy skin collagen cells to help improve skin texture, tone & discolouration caused by natural ageing & harsh environmental factors.
Blue light at 430NM Treats and Calms the skin.
Skins natural ability to produce collagen & elastin on a cellular level is increased to promote plumper & firmer looking skin.
Key Benefits
Treat skin to a 10-15 minute face-lift at home.
Compact portable device.
Improves facial tone and skin firmness.
Reduces wrinkles
Safe to use daily. 
Non-invasive - this tool emits low level electrical currents that mimics the bodies own natural currents.
Perfect for on-the-go use.
How to Use:
Cleanse & tone the skin.
Apply gel elixir.
Pairs perfectly with Nubyen Dermal Filler & Nubyen Beautox Skin Beautifying Elixir for the ultimate skin renewal experience. 
Press and hold the power button- devise is now switched on.
Sweep & glide over the face in areas that need to be refreshed, contoured & beautified.
For slimming effects massage in a downward motion over the lymph nodes in the head & neck.
Look for visible results such as firmer skin, with improved turgor.
After care:
Clean devise with a damp cloth removing any elixir. 
Charge using the USB devise. 
Follow with your favourite serum & moisturiser. 
Use daily morning and or evening for 10-15 minutes for maximal results.
Created by a team of Medical Doctors & Clinical Scientists. 
This toning devise is a portable skincare solution that delicately yet effectively stimulates the skin to improve in firmness & texture.
Nubyen Muse Skin Beautifying Renewal Light Emitting Device harnesses innovative nano-current technology.