Nubyen Cheek Filá - Lifting reversible Cheek Filler alternative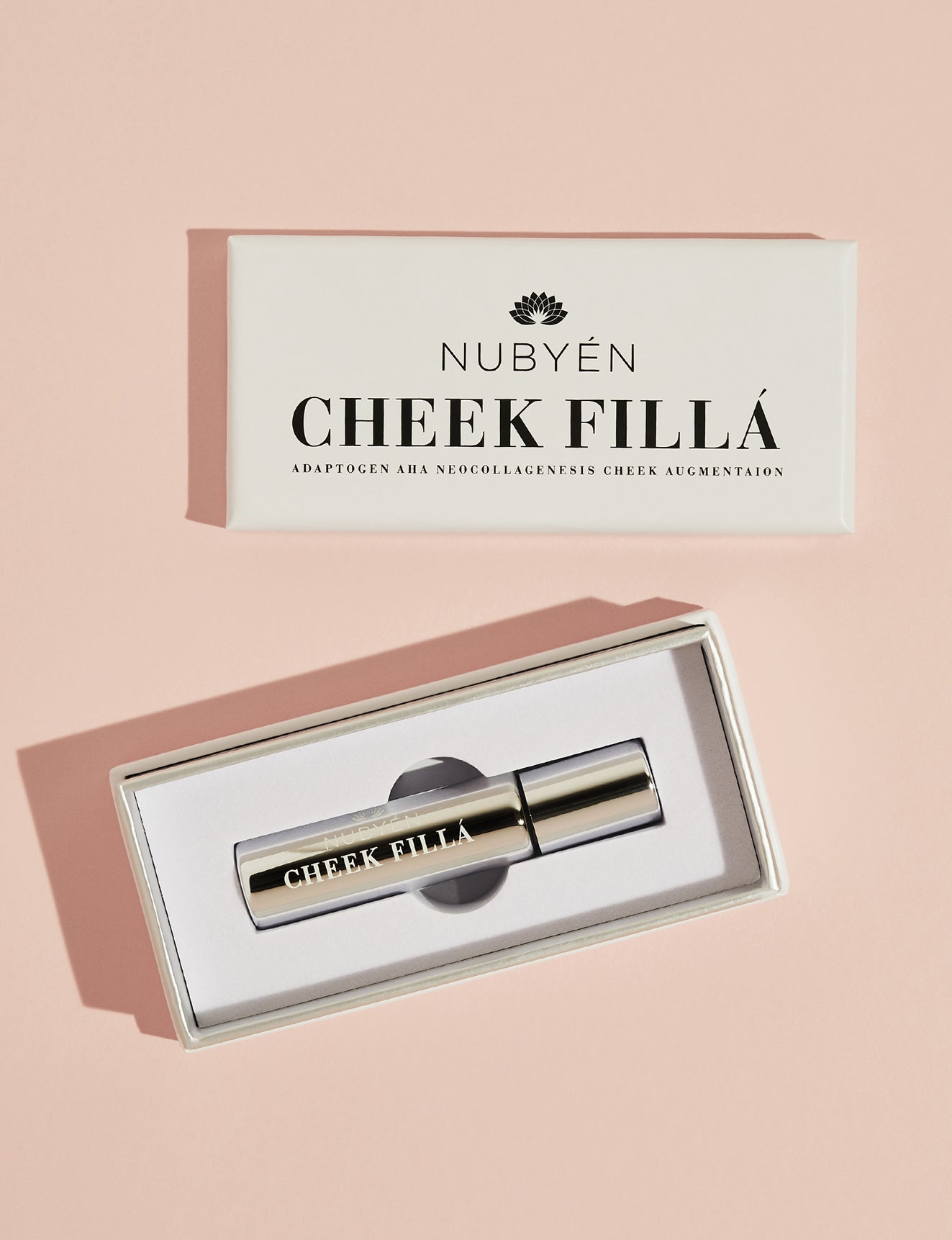 Nubyen Cheek Fillá - Powered by science
Adaptogen AHA Neo-Collagenesis Cheek Augmentation
Enhance your look & elevate your cheekbones naturally with Nubyen Cheek Lifting Elixir which works to sculpt, amplify & lift your cheekbones.
Enhance your facial profile & gently plump your cheeks.
Nubyen Cheek Fillá acts as a treatment, & is safe to use, with or without cheek filler injections, to add subtle enhancement to your cheeks. 
Cheek volume is restored in one of three ways:
1.      It's lightweight formulation helps to penetrate the deeper dermal skin layers, where hyaluronic acid & adaptogens help to hydrate.
2.      Natural skin-plumping ingredients such as cinnamon & menthol, are delivered to your cheeks, here you'll feel a slight tingling & lifting sensation, ultimately restoring skin cells & elevating your profile.
3.      At the upper layers of skin (epidermis) our natural skin brighteners/ sweeteners such as apple extracts, mango butter, and AHA fruit extract brighten & leave a subtle glow.
Made by a team of Clinical Doctors & Scientists in the United Kingdom.
Clean: Free from Sulfates, Phthalates & Parabens
Non-comedogenic, (Safe for use on all skin types)
This product contains AHA follow-up with SPF
This is reversible effects can last up to 3 hours
How to use:
This instant treatment can be done quickly & effectively in your own time & from the comfort of your own home.
Use underneath makeup on clean skin, or as an overnight treatment.
Top-up in the day as required.
Ingredients:
Lemongrass, Cinnamon, Reishi adaptogen, hyaluronic acid, Mango Butter, AHA Fruit extract, apple extract, Coconut oil, Grapeseed oil, Shae Butter, Cocoa Butter, Candelilla wax, Castor oil, Menthol.
Sustainability
Made from fully recyclable light-weight glass jars, d

erived from sand & limestone.
Forest-friendly recyclable outer packaging.