Nubyen Muse - Beauty Inheritance electric 24k Gold Skin Device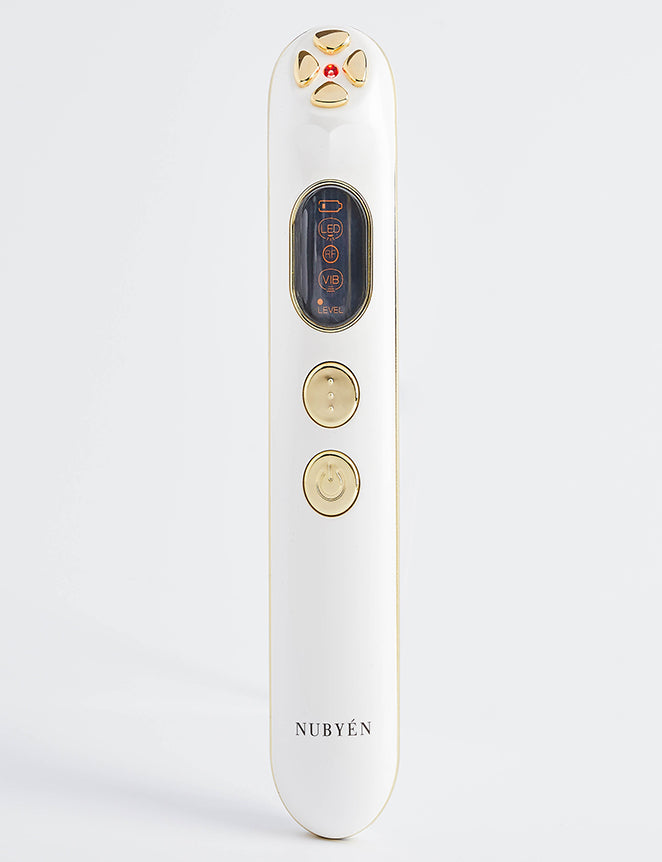 Improve your skin at home & on the go. Muse Beauty Inheritance 24 K gold skin-beautifying device improves the appearance of your skin, by diminishing fine lines & wrinkles.
Collagen and Elastin production is stimulated through nano-particle micro-current transmission. This mimics natural pulses and currents generated by the body, which reduce with age. As a result, skin appears firmer, brighter, and more rejuvenated. 
This device has an angulated surface, which enables a large surface to reach yet targeted delivery of energy. Added benefits of this device owe to its 24k gold plated electrode heads.
24k gold plated electrode:
Varied electrical intensities ensure that the comfort and depth of penetration can be modified based on your needs. 
Muse utilizes, its clever 24k plated gold electrode plates, added benefits include
Slowed depletion of collagen 
Further increases in collagen production.
Brightening of the skin.
Improvement of the skin's circulation. 
Reduction in inflammation, redness, & protection against free radicals. 
How to Use:
Cleanse & tone the skin.
Apply gel elixir.
Pairs perfectly with Nubyen Dermal Filler & Nubyen Beautox Skin Beautifying Elixir for the ultimate skin renewal experience. 
Press and hold the power button- the device is now switched on.
Sweep & glide over the face in areas that need to be refreshed, contoured & beautified. Continue motions for 10-15 minutes.
For slimming effects massage in a downward motion over the lymph nodes in the head & neck.
Look for visible results such as firmer skin, with improved turgor.
Red light therapy
Repeat daily. Use morning & evening for enhanced results.
Aftercare:
Gently clean the device with a damp cloth removing any elixir. 
Charge using the USB device. 
Follow with your favorite serum & moisturizer. 
Use daily morning and or evening for 10-15 minutes for maximal results.
Created by a team of Medical Doctors & Clinical Scientists. 
This toning device is a portable skincare solution that delicately yet effectively stimulates the skin to improve in firmness and texture.
Nubyen Muse Skin Beautifying Renewal Light Emitting Device harnesses innovative nano-current technology.